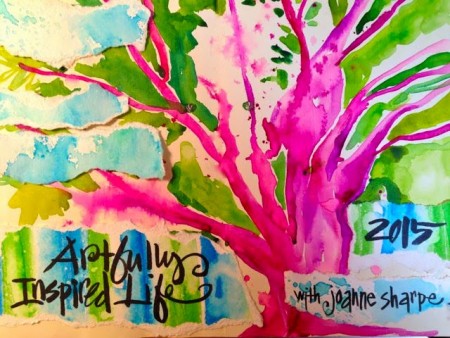 Artfully Inspired Life™ with Joanne Sharpe
$59
CLASSROOM OPEN WITH IMMEDIATE ACCESS 
Check out this fun class preview video!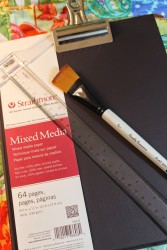 Join anytime!  Here's a class that is jam packed with dozens and dozens of art techniques and ideas you can use to create a documented life each month.  Even though we began this class in January 2015, you can start right now with the current month and rotate into the monthly lessons that will take you into 2016.
12 months of content to start at anytime
25+ videos and photo tutorials
Art ideas on 52 weekly pages
Techniques and process lessons
60+ works of journaling art.
Sharing groups and peer networking in the classroom and on social media.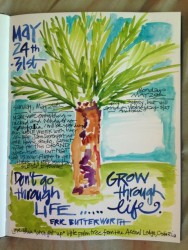 Make your everyday life a masterpiece in a gorgeous art journal to cherish!
FROM CLASS LAUNCH: "I am so very excited to share and launch, "Artfully Inspired Life" my 2015 art journaling and lettering ONLINE class for the New Year.  We'll be making colorful inspirational art in gorgeous art journal to tell your life story for 2015.  We'll be doing what I love best….diving deep into the illustrated word.  Imagine creating 52 works of lettering and journaling art for a whole year!  I have planned tons of new colorful ideas and stunning techniques to FILL an entire art journal, taking it one lesson at a time. You're going to want to join us on this awesome art adventure."  -Joanne Sharpe 
Did I mention it's art lessons that you can use to create an art journal for the WHOLE YEAR is only $59??!!
REGISTER NOW on the Ruzuku site
$59
CLASSROOM OPEN WITH IMMEDIATE ACCESS 
Class is hosted on the Ruzuku platform and is live every month!
With your paid registration, you can sign in with your own email and password, check out the supply list and settle into the classroom. You'll receive a welcome email when class starts. I'm sooooo excited about this wonderful class.
See you there for all of 2015, for an "Artfully Inspired Life"!