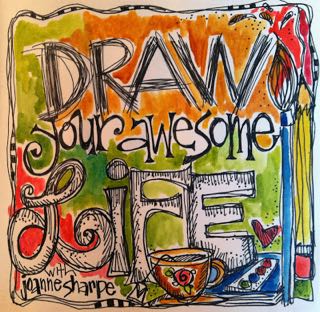 "DRAW YOUR AWESOME LIFE"
Daily Doodle, Sketch and Journal with Joanne Sharpe
$38
CLASSROOM OPEN WITH IMMEDIATE ACCESS
Have you been dreaming about making your own hand drawn, funky fun lettered, illustrated, living every moment, everyday art journal?  Come on "UP" with me!
Check out this fun class preview video!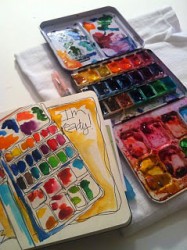 Here we go again, we're going UP!  Up your creative game and make your life a masterpiece, you can do this!  Let's "step up the doodle" and start drawing and sketching life in detail.  Immerse yourself in 15 dynamic video lessons on the Ruzuku.com class platform, chuck full of awesome ideas and techniques for drawing, sketching, doodling and watercolor journaling  to illustrate your gorgeous, wonderful life.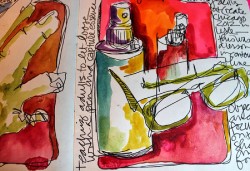 With simple art supplies, you'll create a daily ritual exploring your personal drawing, painting and coloring style while recording life's precious moments, large and small. Learn easy methods to confidently draw simple objects, locations, scenes, still life, nature and landscapes along with stylized lettering and journaling.  With my prompts, encouragement and art coaching you'll create a treasure….a personalized illustrated "life story" book that you will cherish and live in.  Network and share your work in our private Facebook group with your old and new art friends!  It's an artful life, be in it!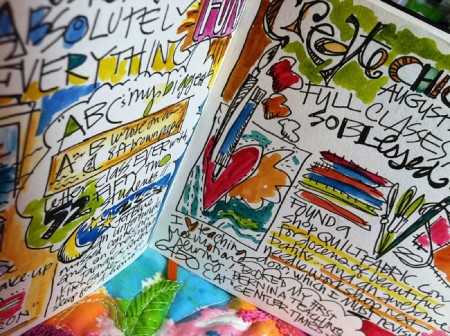 15 AWESOME VIDEO LESSONS, DOZENS OF PHOTOS
LIVE NETWORKING IN CLASSROOM DISCUSSION AREAS
SELF PACED
FOREVER ACCESS
It's like buying a virtual book, really. ….what's not to love? 
Hope you'll join us!
RESERVE YOUR SEAT and SIGN UP TODAY!
REGISTER NOW on the Ruzuku site
$38
CLASSROOM OPEN WITH IMMEDIATE ACCESS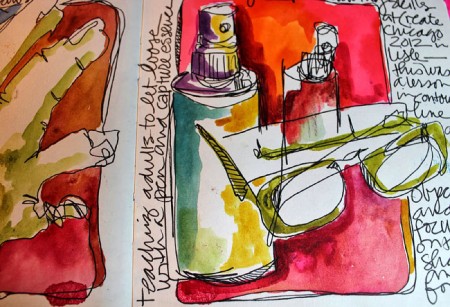 CLASS SUPPLY LIST
*It's fine to use what you have, or choose any brands of personal preference. (I purchase my materials from Dick Blick or my local art stores)
-watercolor journal or sketchbook (I use Handbook by Global Art Materials-size 5.5″x5.5″ or  5.5 x 8 1/4″ size or Moleskine watercolor 5″x8″ size)
-watercolor paints or pan set  (I use Koi travel set or , Daniel Smith or Winsor Newton tubes assorted colors in a travel palette)
– black fine tip, waterproof pens/marker (I use Pitt-fine point and Uniball Vision-fine tip)
– black Tombow dual brush marker
-waterbrush (I use Niji brand-medium point)
-watercolor brushes  (I use Simply Simmons brand ROUND #4 and #8)
-pencil and white eraser
OPTIONAL: Tombow color markers, Inktense pencils, Peerless watercolors